FamilySearch Overview: No Fee, No Tree?
FamilySearch is a non-profit organization, staffed by dedicated volunteers for over a century. Its extensive database, which contains more than 2,000 entries, aims to simplify and enrich your family history search. Unique to FamilySearch is its cost-free service. This review addresses how effective and user-friendly this free service is for tracing your family's past. It will give you a better understanding of whether FamilySearch fulfills your genealogy requirements and offers the features and resources you seek.
Easy Tool, Complex Results
Despite FamilySearch's family tree builder being completely free, you still get a lot of functionality. From your online dashboard, you can access plenty of video tutorials to walk you through the process if you're unsure where to start. I found it easy, though.
You can begin by entering your own information, including all the essential info you'd expect like your name, date of birth, and location. Then simply add your parents' info, grandparents', and anyone else you know from your family tree.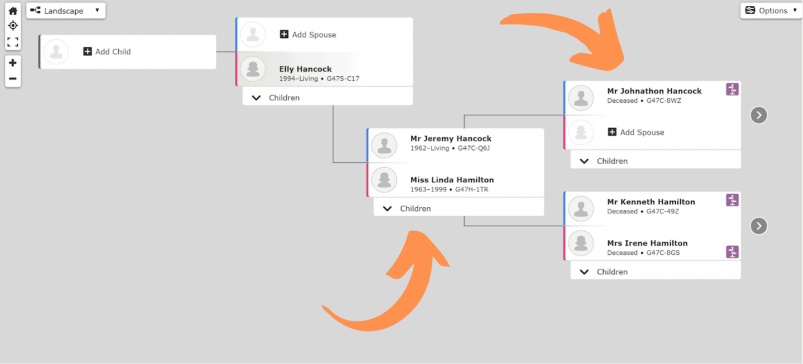 The dashboard in FamilySearch is designed with user-friendliness in mind, offering flexible viewing options such as landscape, portrait, and fan view. However, when compared to some other family tree builders I've used, it may not have the most visually appealing design. The good news is that you can improve its visual appeal by attaching images to each person you add.
When you input a person's information, FamilySearch swiftly scans its database for potential matches. If it doesn't find a match, you can manually create the person and connect them to your family tree. In my own experience, I didn't come across any matches.
While exploring records, you have the option to link these documents to the individuals in your family tree. This enables anyone else searching for the same records to easily access the people you've connected to them, enhancing the collaborative aspect of your genealogical research.

If the record is there to view, an image will be available. Unfortunately, I couldn't actually view any of the records I found. Apparently, if a person has been living within the last 110 years, FamilySearch's policy is that you usually won't be able to view the record, even if it exists. You could get it from another site, though.
The search tool has plenty of fields to help you locate the right records. You can search with names, birth and death dates, location, relationship, and more. I found the more specific the information you enter, though, the harder it is to find records.
It took me ages to locate my parents' marriage certificate, but it was the first result using the same search fields on Ancestry. Once I generalized my searches, I got better results, though. Try to stick to names and regions, rather than specific locations and birth dates.
Unfortunately, you can't upload any existing DNA to help you with your family tree. You could send your family tree from FamilySearch to Ancestry, but not the other way around. You'll need to enter everything manually, even if you have spent ages building a tree on another site. So I'd recommend you start withMyHeritageor Ancestry instead of Family Tree from FamilySearch.
5 Standout Features of FamilySearch
Connect with Family Members
FamilySearch helps you find people who might be looking for the same ancestors as you, which means they could be part of your family too.
When you add a person to your family tree, you can leave notes for other family members either by using the collaboration tab or starting a chat. Everyone can join in the chat and it's a great way to find relatives you didn't even know you had.
If someone adds information to a person's details, their name is automatically added. You can find their username and contact info in the 'Detail View' tab. Send them a message and start exploring your family history!
Capture and Share Memories
With FamilySearch, you have the ability to create memories, whether that's a photo, letter, audio recording, or video. You can upload anything you have to your personal memory bank on your dashboard.
Tagging ancestors in memories links it to their profile, so you can revisit them and allow anyone else researching that ancestor to view it, too. You can also save memories to your favorites so they're always easily accessible, and share them across your social media channels.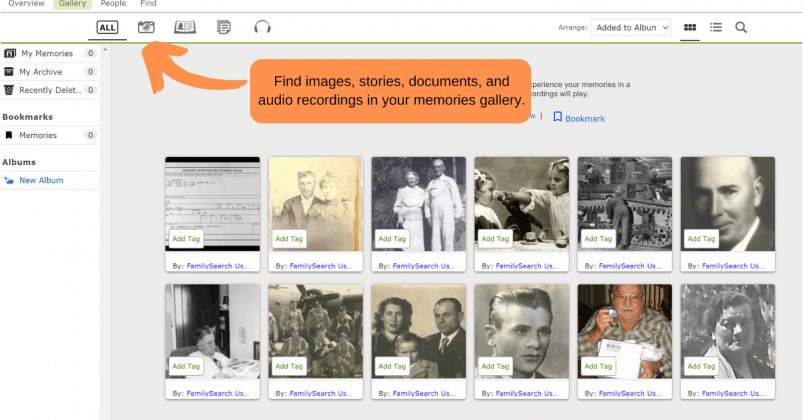 Keep on Top of Your Family Tree Tasks
Your FamilySearch account comes with an online task manager which makes it easy for you to build your tree.
From your dashboard, you can view all of your tasks so you can see what's next on your list. You get reminders on who to add to your family tree, such as your grandmother or father, as well as important dates or information, such as birth dates and location, to increase the chance of finding more ancestors. And there are reminders to add or review relevant records, too.
You can even set your own to-do list and add tasks of your own to keep on top of your family tree easily.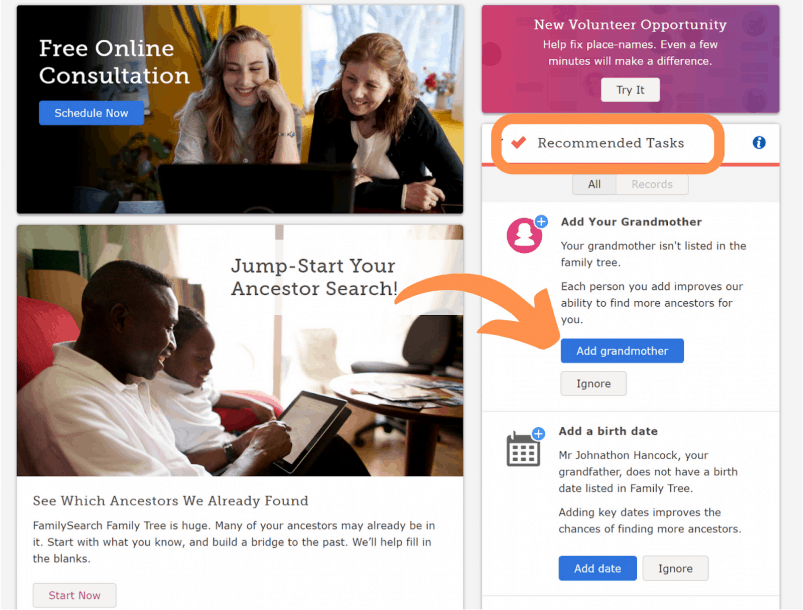 Endless Searching…
FamilySearch has one of the largest historical databases, ever. It can be a bit overwhelming if you don't know how to search or where to start, but it also means the possibility of finding what you're after is high.
There are over 2,000 historical records and 1.2 billion ancestors recorded on FamilySearch. You can also search for books, genealogies, family trees, and over 4 million images. Once you've located your item, you can easily link it to people on your family tree, so it appears on their profile.
You can even navigate to Ancestry and other search tools to add to your family tree. It takes what you've already searched for and scans one of the other databases for you to locate records.
Build Your Tree On-the-go
FamilySearch lets you build your tree from your smartphone, since it has a mobile app, too. It's incredibly easy to use, and I actually think it's much more appealing than the desktop version.
You can even use the app to make a recording or take photos wherever you are and upload them to your memories bank or someone's profile right away. Interview your family members from your cell phone and capture moments when you get the chance.
Joining the Ancestry Dots
One thing FamilySearch is good at is helping you grow your tree. From your online dashboard, you're given tasks to encourage you to add missing information and ancestors. It notified me to add my grandmother on my father's side, plus add my grandfather's birth date.
Your family tree shows record and research hints to help you build your ancestors' profiles. For example, it told me that I was missing a vital event for my grandfather (birth date) and hadn't added any sources yet.
It also scans for any records that might be linked to the people in your family tree and notifies you to review the record.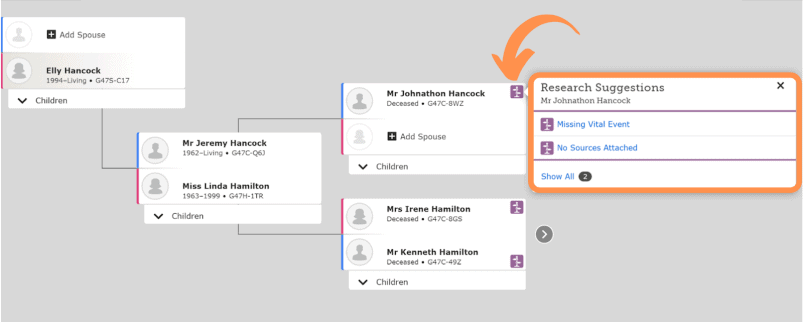 The more records you find and link to your ancestors, the more likely you are to find more descendants and connect with long-lost family members. If another person accesses the same source as you, they can see who you've linked it to.
You can also collaborate with other people's family trees. When you search for a person, you can add matches if they are available – this means they are already named on someone else's tree. You can then both add comments and information to their profile to help with your research or get in touch with your relatives.
If you follow a person on FamilySearch, it notifies you when any new sources or information are added to their profile. This is a great feature for allowing you to keep up-to-date.
FamilySearch notifies you if it finds possible ancestors, but after speaking with the support team, it appears this is only "from time to time".
You can click on people's cards after a manual search and view their family members, then add them to your own family tree that way. It'd be nice if FamilySearch did some of the hard work though, wouldn't it?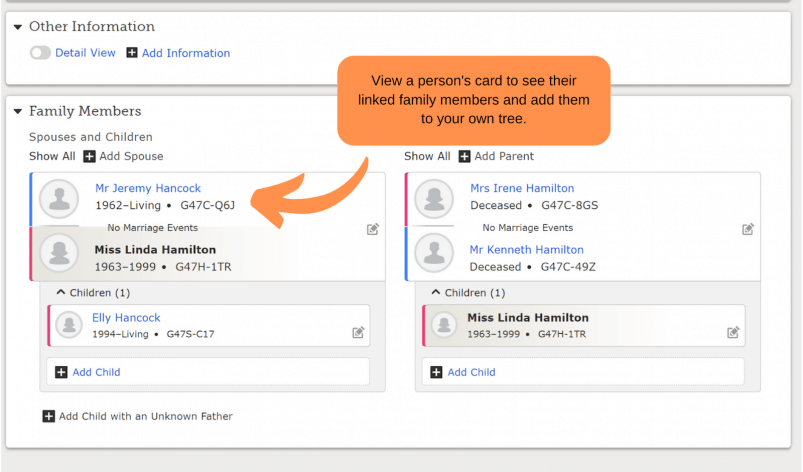 All information is public (for any deceased ancestors), so anyone can edit a profile. If you've spent time uploading information, images, and records, anyone can delete these or change them. That could be annoying if you've spent hours typing up information.
Pricing
FamilySearch is completely free. And that comes with no catch – believe me, I've checked. There are no hidden surprises, no monthly subscription costs, and no payments for viewing records. But there's one thing that makes it stand out as a free service.
Some free tools allow you to buy a DNA kit so you can upload raw data to build your tree, but this isn't an option with FamilySearch.
There's no DNA kit and it won't let you upload any DNA from other platforms, either. This means you have to do everything manually, including adding all important information like records, birth dates, death dates, resident location, and more.
DNA kits usually remove a lot of the guesswork for you and make it much easier to build a substantial family tree. But if you're like me and don't know much about your bloodline beyond your grandparents, it can be difficult to know where to start. So your FamilySearch tree will take you much longer to create.
Plenty of Choice, No Real Answers
FamilySearch has various different support channels. You can reach them via online form, live chat, or by calling the customer service helpline.
I tested the live chat with a few different questions and I was less than impressed with the support I received. First of all, I had to wait nearly 10 minutes to be connected to an agent, which isn't quite the live chat service promised.
The answers I received to my questions left me none the wiser. They weren't able to advise how many historical records there are, or how often they're updated. In fact, they questioned why I was even asking.
I decided to test out the online form service to see what level of support I received there instead. But the online form didn't work. I couldn't even press send on my message, so there was no chance of a reply.
There are plenty of FAQs available in the help center, separated into different categories, including family tree, memories, indexing, and more. If you need support, this might be your only option. Or you could try calling. As for the live chat and online form, I'd give them a miss.
Good For Getting Started
One of the best things about FamilySearch is the fact that it works as one giant, collaborative family tree. Add and edit people you find, and work with others to build your ancestors' history. And for a free service, it has a lot to offer.
You get access to thousands of records, an easy-to-use family tree builder, and an online task manager full of tips and tricks to help you trace your past. But there are a few areas where you're limited.
You can't upload any DNA to help you find ancestors, which means you have to have patience to do everything manually. The search function can be hit and miss, and it's frustrating that you can't import a tree from another platform.
Overall, though, it's a good family tree to get you started and you can learn a lot about your history at no cost.
FAQs
Is FamilySearch free to use?
Yes, FamilySearch is free to use. It is a non-profit genealogy organization operated by The Church of Jesus Christ of Latter-day Saints. They provide free access to their extensive collection of records, resources, and tools for researching family history.
What kind of records can I find on FamilySearch?
FamilySearch offers a wide range of records from around the world. Their collection includes birth, marriage, and death records, census records, military records, immigration and naturalization records, probate records, church records, and much more. The available records vary depending on the location and time period.
Can I collaborate with other family members on FamilySearch?
Yes, FamilySearch provides features for collaboration with other family members. You can create a family tree on FamilySearch and invite family members to contribute and collaborate on building and expanding the tree. It allows multiple users to work together on adding and editing information, attaching records, and connecting family relationships.
Can I upload my own family tree to FamilySearch?
Yes, you can upload your own family tree to FamilySearch. If you have already created a family tree in a separate software or online platform, you can import it into FamilySearch using a GEDCOM file format. This allows you to merge your existing research with the FamilySearch platform and take advantage of its features and resources.
How do I access FamilySearch's digital collections?
To access FamilySearch's digital collections, you can visit their website at www.familysearch.org. You will need to create a free account or log in if you already have one. Once logged in, you can search for records by entering the name, location, and other details of the person you are researching. FamilySearch's digital collections are accessible online and can be viewed from anywhere with an internet connection.